August 12, 1998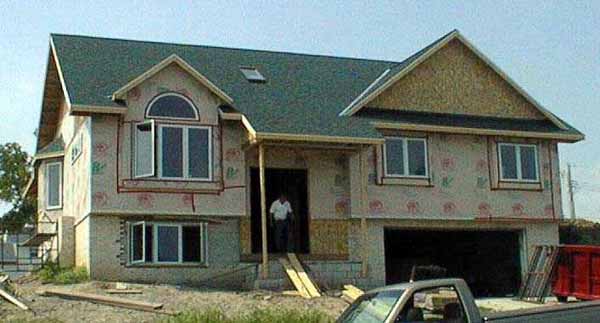 Hereís the front of the house looking at it from the street. The bottom left window is to the basement TV Room/Playroom. The upper left windows are in the living room upstairs. The windows on the right are Chris and Thomasí Rooms (Chrisí is on the left). The skylight you see should shine down on our entry way and the bump out on the left side of the house is in the Dining Room.
The carpenters are almost finished, the roof, windows, doors and framing are all done. We are waiting for the front door unit to arrive and weíll actually be able to lock our house for the first time since March 29th! The plumber and heating/air conditioning subcontractors are working now and the electrician is starting next week. By the end of next week we should be able to start insulating walls and get ready for the sheetrock.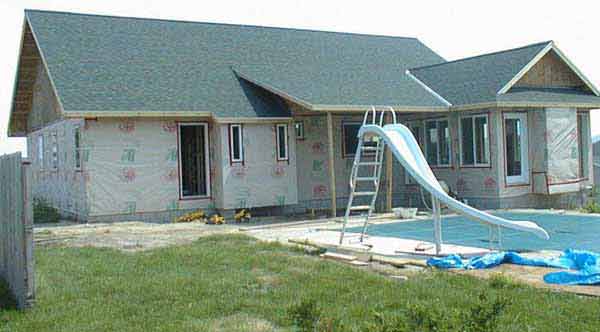 Hereís the back of the house. You can see on the left, the door into the Master Bedroom and then the bump out for the Master Bath vanity. The roof is done for the covered screen porch (we just need the deck, screens and door). The sunroom is on the far right (you can see the bump out for the gas fireplace). Siding and gutters are scheduled for the beginning of September.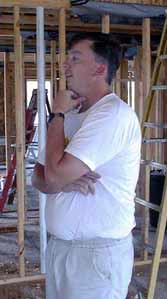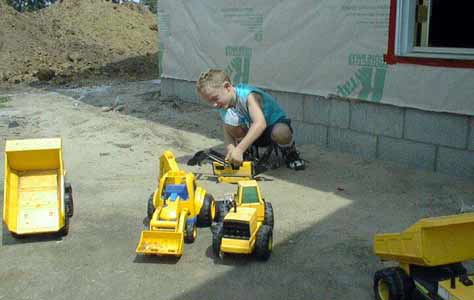 Every Wednesday at 1:00pm we meet with our contractor at the site, hereís Jim talking with him and Thomas is busy moving dirt and "helping" the workers.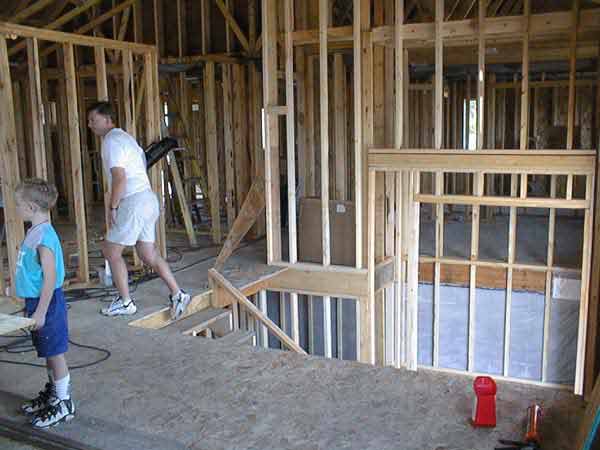 Here I am looking at the front entry and closet from the living room. You can also see the hall way at the top of the steps that goes back to the bedrooms and bath (they are still in the same spots).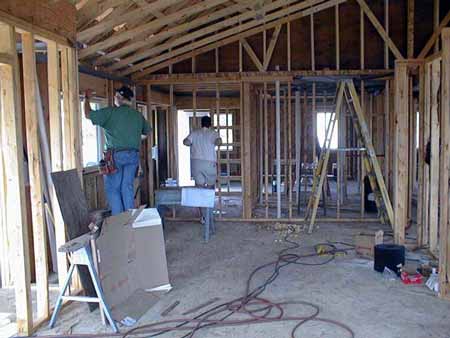 Iím standing in the dining room looking toward the kitchen. The man in the green shirt on the left is standing where our sink will be and Jim is looking through the walls to our Master Bath. Our stove will be to Jimís right and the refrigerator to the right of that. There will be a big island in the middle.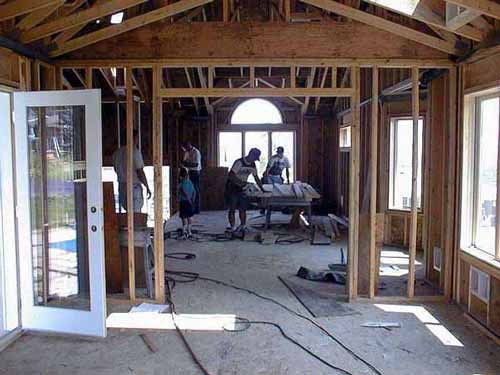 Ok Ė sick of this yet? Here Iím standing in the sunroom looking through the dining room toward the living room. You can see the opening to the left of the living room for the front door and on the right is the bump out in the dining room (to give us more room to walk around the table).